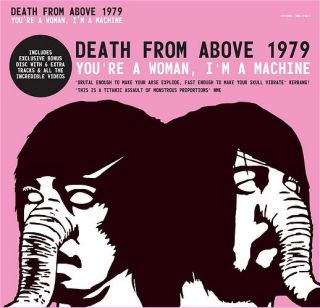 Today i'm going to review an old one, but a good one.
Death From Above 1979 - You're A Woman, I'm A Machine
. Based out of Toronto, ON, with just two people, a drummer/singer and a bassist, these guys know how to play music that makes you want to get up and move. With
YAWIAM
being released in Oct 2004, i still listen to this album daily. The band broke up not too long after the release, and it upset not only people from the GTA, but around the world. With good news of a reunion and with them having already played a few shows, i'm hoping for a new album in the works. One full album and an EP is not enough DFA for me.
DFA 1979 simultaneously fuse quick, upbeat tracks with slow, almost electric ballad tracks on this album. I highly suggest looking into this band, as they are amazing and could use the support. A few favorites off the album include
Cold War, Pull Out, Romantic Rights
, and my personal favourite is the title track;
You're A Woman, I'm A Machine
. Max Weinberg loves these guys, and so do you. Go buy this album.
Production: 8/10
Lasting Appeal: 10/10
Originality: 10/10
Live Show : 9/10
Death From Above 1979 - You're A Woman, I'm A Machine
9/10